Doctors & Staff
Meet the experienced and friendly doctors and staff who make Bothell Vision Center the leading provider for eye care services and vision products in Bothell.
---
Wendy Lim, O.D.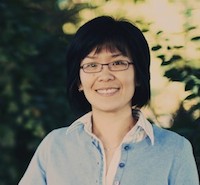 Fully armed with a warm, friendly smile and a large knowledge base, Dr. Wendy Lim has been providing vision and medical eye care for over 20 years. From treating pink eye to managing macular degeneration, her patients find comfort and compassion from her solid experience. She received her degree from the New England College of Optometry and completed her residency training at The Eye Institute in Philadelphia. Outside of clinic, she enjoys gardening, golfing, and playing the piano.
---
Kim Eng, O.D.
Known for his thoroughness and attention to detail, Dr. Kim Eng has a kind and friendly personality and believes it is important to educate and involve his patients in their eye care. From diagnosing "lazy eye" in children to treating computer vision syndrome and glaucoma in adults, he enjoys the clinical diversity seen in patients of all ages. He graduated with honors from Pacific University College of Optometry and completed his residency training at The Eye Institute in Philadelphia, Pennsylvania.
---
Alana Brown, O.D.
Dr. Alana Brown was born and raised in central Florida where she always yearned for "sweater weather". After graduating summa cum laude from Florida Southern College with a degree in Biology she discovered the joy of the West Coast at UC Berkeley School of Optometry. Since graduation she has been living in Virginia specializing in refractive surgery co-management. After 5 years away she is very excited to be moving back to the West Coast with her husband to make Washington their home. Dr. Brown has a passion for accumulating and imparting eye knowledge and patients appreciate her honesty and candor in clinic. In her free time she enjoys yoga, singing, and reading.
---
Catherine G., Optician
Fluent in French, English, and Hebrew, Catherine has been helping people see and look better for over 30 years.  Knowledgeable and highly skilled,  people routinely turn to Catherine for her expertise and European flare on eyewear.  She enjoys pairing the perfect frame to one's facial features and personality, and tailoring the lenses to one's particular needs.  In her spare time, she enjoys reading, knitting, quilting, and crocheting.
---
Iwaine S., Optician
Light-hearted and energetic, Iwaine enjoys helping people find that perfect eyewear or assist with inserting their contact lenses for the very first time.  With her Optician degree and years of experience, Iwaine readily takes on challenging cases and thrives on making sure every patient is well taken care off.  In her free time, she enjoys exploring the local culinary scenery, reading science fiction, and playing the violin.
---
Tara W. – Insurance & Billing Coordinator
With her attention to detail and experience working with health insurance companies, Tara is the one to call on if you have any questions about your financial responsibility.  Outside of the office, she enjoys spending time with her husband and children, remodeling her home, and visiting family in Montana.