Doctors & Staff
Meet the experienced and friendly doctors and staff who make Bothell Vision Center the leading provider for eye care services and vision products in Bothell.
---
Wendy Lim, O.D.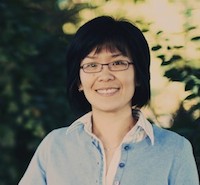 Fully armed with a warm, friendly smile and a large knowledge base, Dr. Wendy Lim has been providing vision and medical eye care for over 20 years. Whether she is treating dry eyes, managing macular degeneration, or fitting MiSight and multifocal contact lenses, her patients  find comfort and compassion from her solid experience.  She received her degree from the New England College of Optometry and completed her residency training at The Eye Institute in Philadelphia. Outside of clinic, she enjoys gardening, golfing, and playing the piano.
---
Kim Eng, O.D.
Known for his thoroughness and attention to detail, Dr. Kim Eng has a kind and friendly personality and believes it is important to educate and involve his patients in their eye care.  From diagnosing "lazy eye" in children to treating computer vision syndrome and glaucoma in adults, he enjoys seeing patients of all ages. Dr. Eng was among the first to be certified in the Pacific Northwest to fit the MiSight myopia management contact lenses.  He graduated with honors from Pacific University College of Optometry and completed his residency training at The Eye Institute in Philadelphia, Pennsylvania.  In his spare time, he enjoys playing tennis and his electric guitar.
---
James Abel, O.D.
Dr. James Abel is a straightforward, knowledgeable, and detail-oriented clinician. His clinical interests range from ocular surface disease to macular degeneration. He graduated from UC Berkeley, where he was placed on the Dean's Honor List. Dr. Abel then received his doctorate from the Arizona College of Optometry where he has given several presentations on various topics, including night blindness and ocular nutrition.  He has also written numerous essays on topics including ocular pharmacology, and infectious diseases that affect the eye, including Ebola and trachoma.   When not seeing patients, he enjoys photography, hiking, and bird-watching.
---
Meaghan W. – Patient Care Coordinator
---
Richard G. – Optician
Warm, polite, and full of experience, Richard will not only to help you find the frames that you've been looking for, but ensure that they will also complement your facial features and meet your visual needs.  If you need your eyeglasses professionally repaired or adjusted, Richard is here to take care of you.  Originally from England, Richard and his wife now call the Pacific Northwest home.
---
Tara W. – Insurance & Billing Coordinator
With her attention to detail and experience working with health insurance companies, Tara is the one to call on if you have any questions about your financial responsibility.  Outside of the office, she enjoys spending time with her husband and children, remodeling her home, and visiting family in Montana.